Lite weight concrete is an advanced type of essential luxury building materials.
What is Lite Weight Concrete ?
LITE WEIGHT CONCRETE has developed anew & innovation concept for production of LITE WEIGHT CONCRETE block to be used as building materials. LITE WEIGHT CONCRETE is made of air bubbles in the form of a foam & then mixing the foaminto a cement. The slurry is them poured into moulds. Foam blocks slurries have higher cement contents.
Why Choose Lite Weight Concrete Block ?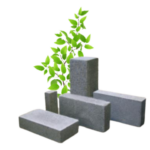 Light Weight : Blocks are   lightweight, strong & durable so saving in structures & foundation.
Heat Insulation : It provides superior thermal insulation so reduces the heating & cooling expenses
Fire Resistant : Blocks products are weather proof, termite resistant & fire
proof
Earthquake Resistant : its lightness increases resistance against
earthquake so less damage & Save Your assets.
Environment Friendly : it is manufactured with 100% recycled resource. It has a dramatic impact on emission of Green House Gases.
Workability: Blocks products are in a rectangular or in shapes as required.
It can be sawed, drilled & shaped like wood using standard hand tools.
Lite Weight Concrete gives you Eco friendly product So Keep Your Environment luxury & Cool With Us.
Lite Weight Concrete Block